Review: Panasonic Lumix DMC-GF2 camera
Touchscreen auto focus is a nice innovation, $700 is expensive but these interchangeable lens cameras continue to push the boundaries of digital photography into new and intriguing areas.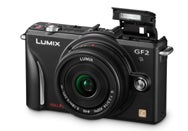 The Panasonic Lumix DMC-GF2 is a showpiece for the benefits and drawbacks of a touchscreen interface. Its touchscreen UI introduces a few groundbreaking features, but may leave you longing for old-fashioned analog controls more often than not.